Baltimore
City in Maryland, United States
Baltimore is the largest city in the US state of Maryland, but not its capital (this is Annapolis). The city is notorious as a socio-economic center with a high level of violent crime, but also offers visitors a number of very attractive attractions, e.g. B. one of the most beautiful inner city ports in the USA.
Baltimore
state

Maryland

resident
height

10 m

no tourist information on Wikidata:
location

Baltimore
background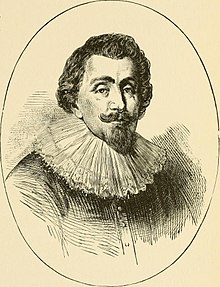 The British settlement of the present urban area of Baltimore began in the 17th century. At that time, there were very few Native Americans here. The Susquehannock, who lived in the northeast, came here for hunting at most. In 1661, David Jones settled where the Jonestown district is today. After the rise of tobacco growing in Maryland, in 1706, the port of Baltimore was founded on the territory of the present district of Locust Point. In 1729 the Town of Baltimore was founded. The name was given to the manager of the Maryland colony, Cecil Calvert, second Baron Baltimore (1605-1675). In the 18th century, Baltimore gained further importance as storage space for the sugar grown in the Caribbean.
In 1796/97, the Town of Baltimore became the City of Baltimore, and in 1851 the city also emancipated itself from the surrounding county. Since 1816, there has been gas lighting here. The expansion of the Baltimore & Ohio Railroad has accelerated freight traffic. tobacco and sugar cane are becoming less important; In the early nineteenth century, the city owes its wealth mainly to the timber industry, shipbuilding and textile production. In 1844, the world's first telegraph line was opened between Baltimore and Washington. During the Great Depression of 1873-1879, there were labor riots in Baltimore. In 1904 a major fire killed large parts of downtown.
In the twentieth century — especially in the 1950s and 1960s — hundreds of thousands of African-Americans moved to Baltimore. A push factor for this migration was the dire living conditions in the low south, and the pull factor was the low rents in the centers, because the white population of cities like Baltimore had discovered their preference for living in green suburbs after World War II. Today, almost two-thirds of the population of Baltimore are African-American. In response to the assassination of Martin Luther King, Jr. in April 1968, the Baltimore Riot arrived. The city has had very high murder rates since then (1993: 344 murders, with a population of around 100,000), with mostly African-American victims.
Since the 1980s, efforts have been made to redevelop the city. The main attractions were the Inner Harbor and the sports stadiums. The port of Baltimore is the second largest in the mid-Atlantic after New York/New Jersey. Johns Hopkins University and its associated hospitals are the city's biggest employer. However, socio-economic problems remain massive. For example: 84% of the children attending public schools in Baltimore are poor enough to be eligible for discounted or free meals. Almost a quarter of the population lives below the poverty line.
district
Inner Harbor
Fells Point, historical district east of the Inner Harbor with many shopping, restaurants, and alone 120 pubs.
downtown
Midtown
South Baltimore
North Baltimore
Southeast Baltimore
West Baltimore
East Baltimore
arrival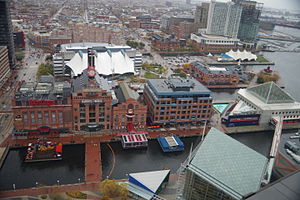 By plane
Baltimore has an international airport: 39,1782209-76,6675418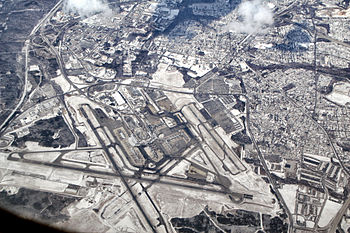 3 Baltimore/Washington International Airport       (IATA: BWI). It is by far the largest airport in Maryland and is located on the outskirts of Linthicum, about 16 km south of the city center. It is served mainly by low-cost Southwest Airlines and Spirit Airlines, which offer numerous intra-American flights. The most frequent connections are with Atlanta, Orlando, Fort Lauderdale, Charlotte and Boston.
Condor flies from Frankfurt to Baltimore.
The airport is well served by public transport. The Light Rail takes you to Baltimore city center in just over half an hour from the airport. There is a railway station (BWI Airport rail station) about 3 km from the airport. There you can change to the Penn Line's MARC regional trains, which take you to Washington Union Station, Baltimore Penn Station and Perryville. In addition, Amtrak trains stop in the direction of Philadelphia and New York City as well as in the direction of Washington and further into the southern states. Shuttle buses run between the airport and the train station.
If direct flights to BWI are not possible, Washington-Reagan (DCA) airports can alternatively be used. 70 km) or Washington Dulles (IAD; 100 km).
by train
Amtrak has various connections to numerous destinations in the USA. Baltimore is located on the highly frequented Northeastern Corridor (Boston-New York City-Philadelphia-Washington D.C.). The Acela Express high-speed train takes about half an hour to get to Washington, from Philadelphia 1:05 hours, from New York City 2:20 hours, from Boston 6:20 hours.
The 39.307321-76.6156642Penn Station is located on Charles Street in Midtown.
There is another railway station at BWI Airport.
By bus
The city is served by several bus companies:
Greyhound.

Of the most important cities in the United States.

There are stops in Inner Harbor and Southeast Baltimore.
BoltBus.

From New York (7th, 33rd

(street) to Marc Penn Station in Baltimore.
On the street
distance
Annapolis
33 mi (52 km), 39 min.
Washington, D.C.
39 mi (62 km), 58 min.
Philadelphia
101 mi (162 km), 2:21 h.
Baltimore is located at the intersection of the I-70 (Pittsburgh), I-83 (Harrisburg) and I-95 (New York City, Philadelphia) motorways; Washington, D.C.).
mobility
sights
National Monument Fort McHenry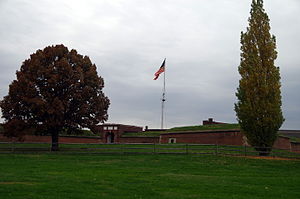 Fort McHenry
39.263056-76.5797221 Fort McHenry. The fort on the Locust Point peninsula was built in 1798-1800. Its outline is shaped like a five-pointed star. In the course of the battle of Baltimore (12-15 Sept. 1815) the flag of the fort was severely damaged and replaced by another larger flag. This inspired Francis Scott Key to write a poem whose first two verse form the text of the American national anthem. The tune comes from an old British poker song. The Fort also has a visitor center, where the history of the Battle and the National Anthem are described in detail. The buildings inside the fort include exhibits from the time of this war, and the hoarding of the flag is part of the daily ceremony. The Fort and the Visitor Center have been national monuments since 1939. Price: admission $10. last amendment: no Type is group
structures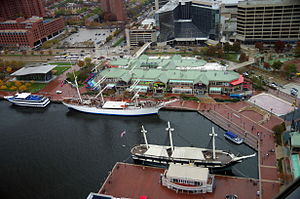 2

World Trade Center.

The 123.5 m high tower is shaped like a regular pentagon and offers a fantastic view of Inner Harbor.

Price:

access

€6.

3

Type is group name Westminster Hall and Burying Ground, Grabstätte of E.A.Poe
Joseph Euchtman House,

6807 Cross Country Boulevard

.

Built in 1939, Usonian (private house;

from the street not much can be seen).

The cult architect Frank Lloyd Wright has left only two works in Maryland.

The second is the spectacular Robert Llewellyn Wright House in Bethesda (7927 Deepwell Dr.), a suburb of Washington, D.C., built by the architect for his youngest son in 1958.
More e.g. B. here.
churches
4

Type is group name Basilica of the Assumption of Assumption, built in 1806-1821, since 1993 National Sanctuary

5

Type is group name Cathedral of the Virgin Mary Queen, built 1954-1959

6

Type is group name Zion Church of the City
monument
7

type is group name Washington Monument.
museums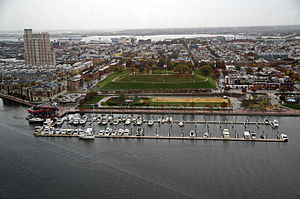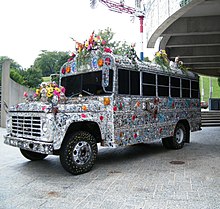 8

Walters Art Museum,

600 N Charles St, Baltimore, MD 21201

. Tel:

+1 410 547 9000

.

Opened:

May 10-17, 10-21 hours.

Price:

Admission free.
9

Baltimore Museum of Art,

10 Art Museum Dr., Baltimore, MD 21218

. Tel:

+1 443 573 1700

.
10

American Visionary Arts Museum (

AVAM

),

800 Key Hwy, Baltimore, MD 21230,

. Tel:

+1 410-244-1900

.

Art museum of a different kind. The works exhibited here are all from artists who had no formal education, and therefore differ from the mainstream in a refreshing and reflective way, as it usually prevails in art museums.
11

B&O Railroad Museum,

901 W Pratt St, Baltimore, MD 21223

. Tel:

+1 410-752-2490

.

Opened:

Mon-Sat 10-16, So 11-16.

Price:

$20 (children 2-12 years:

$12, 60+ $17).
System Source Computer Museum,

338 Clubhouse Rd.

Hunt Valley

(

25 minutes north of downtown Baltimore

).

This extraordinary and little-known museum is housed in the offices of an IT company and is hosted by one of the managers.

The collection includes historical calculator, historical "computer toys" and, above all, a wide range of historical computers.

A curta, an Altair 8800 and a PDP-12 can be seen, among other things, during opening hours.

Real geeks communicate with the curator beforehand and ask for a personal tour, which he will be happy to provide for free when he is in the house on the day.

Opened:

Mon-Fri 8:30-17.

Price:

Admission free.
12

Edgar Allan Poe House & Museum (

Poe Baltimore

),

203 N Amity St

(about 10 minutes west of downtown).

One of two American museums dedicated to the writer (the other is in Richmond, Virginia).

The house was small and very inconspicuous from 1833 to 1836 Poes residence.

There is no private parking.
Dr. Samuel D. Harris National Museum of Dentistry,

3 South Green St

(

a few blocks north-west of Inner Harbor

).

Museum with exhibitions on the history of dentistry, forensics and biology of the teeth.

Opened:

Mon-Fri 9-16.

Price:

$7 (children from 3 to 12 years:

$5).
park
13

Maryland Science Center,

601 Light St, Baltimore, MD 21230

. Tel:

+1 410 685 5225

.

14

Maryland Zoo,

1876 Mansion House Dr., Baltimore, MD 21217

. Tel:

+1 410-396-7102

.

15

National Aquarium,

501 E Pratt St, Baltimore, MD 21202

. Tel:

+1 410 576 3800

.
activities
purchase
Müller's Delicatessen,

7207 Harford Rd, Baltimore

(

22 minutes north-east of downtown

).

Supermarket (family business) with German sausage and cheese products and a wide variety of imported food.

Opened:

Mon-Sat 9-17, So 9-14.
1

Elegant Touch,

8711 Belair Rd, Nottingham

.

Large specialist shop for bridal and celebrity clothes.

If you have always wanted to try on a big dress - with shoes and handbags - this is the right place for you.

Opened:

Tue 11-20, Fri 11-19, Sat 10-18 So 12-17.

Mon closed.
kitchen
A must-eat in Baltimore is of course Seafood, especially the locally harvested Blue Crabs (in summer). Next to this, you will find an astonishing number of good restaurants serving Mediterranean and Middle Eastern cuisine.
price
Baba's Kitchen,

745 E Fort Ave

(

a few minutes south of the Inner Harbor

).

Fast and very good Mediterranean cuisine (Falafel, Kabobs, Pitas, Mezza plates, salads).
means
seafood
1

LP Steamers,

1100 E Fort Ave

(

south of Inner Harbor

).

Another very good Seafood restaurant, which is less popular with tourists than others but offers more authentic local color.
2

Nick's Fish House,

2600 Insulator Dr

(

10 minutes south of Downtown

).

Located on the seafront, this excellent Seafood restaurant serves a more affordable lunch than in the evening.

If you want to fish locally, you have to come in summer.
3

Thames Street Oyster House,

1728 Thames St

(

Inner Harbor

).

Very popular oyster bar, where you can enjoy all sorts of other Seafood dishes.
Other
4

Cazbar,

316 N Charles St

(

Downtown, a few blocks north of the Inner Harbor

).

In the US, Turkish restaurants are relatively uncommon.

But Baltimore has one, and that's quite popular.
La Cuchara,

3600 Clipper Mill Rd

(

10 minutes north of downtown

).

A wonderful Spanish (tapas) restaurant.
5

Di Pasquale's Italian Marketplace & Deli,

3700 Gough St

(

about 15 minutes east of Downtown

).

Italian delicatessen, where you can also order fresh sandwiches, pizzas and other Italian specialties and either eat right away or take home.

The most popular restaurant in the city.

Not quite cheap for a deli, but authentic and really good.
The Helmand,

806 N Charles St

(

Downtown, a few blocks north of the Inner Harbor

).

It is considered the best restaurant in Baltimore with an Asian cuisine.

If you've never eaten Afghan, this is the opportunity.
Ikaros Restaurant,

4901 Eastern Ave

(

a quarter of an hour east of downtown

).

The best Greek restaurant in Baltimore.
6

The Land of Kush,

840 N Eutaw St

(

a few minutes north-west of Downtown

).

Creative vegetarian, vegan and gluten-free cuisine.
Lebanese Taverna,

719 President St

(

Inner Harbor

).

Chic furnished restaurant with good local cuisine.
Namaste Baltimore Indian Cuisine,

413 W Cold Spring Ln

(

a quarter of an hour north of Downtown

).

It is considered the best Indian restaurant in the city.

Lunch buffet.
walking
7

Charleston Restaurant,

1000 Lancaster St

.

The Inner Harbor, directly on the water, is the most popular top restaurant in Baltimore.

The menu changes every day.

The guest decides for himself how many trails he wants to take.

A 3 course menu, for example

costs $79 (with wine $135).
nightlife
accommodation
For airport hotels see Linthicum.
favorable
means
1

Sheraton Columbia Town Center Hotel,

10207 Wincopin Cir, Columbia

. Marriott Hotel, located half an hour west of downtown Baltimore in the suburb of Columbia, on the small lake Kittamaqundi and on the edge of the Mall in Columbia.

290 rooms on 10 floors.

All rooms have a refrigerator and microwave.

Unfortunately, many of the rooms are no longer in top condition and need to be renovated.

2 restaurants.

sports studio and outdoor swimming pool.

Private parking (free of charge).

Breakfast costs extra (from $12.95).

Self-catering, if you walk 5 minutes south, you'll find a Whole Foods supermarket.

Check-in:

3:00 PM

Check-out:

12:00.

Price:

from $82.
walking
2

Embassy Suites Inner Harbor,

222 St Paul Place

(

Downtown

). Tel:

+1,410,727,2222

.

The Hilton chain apartment hotel offers good value for money.
learning
39.3279-76.62071 Johns Hopkins University. It is one of the most prestigious universities in the United States, last change: Dec. 2015 (information may be out of date)
University of Maryland, Baltimore County,

1000 Hilltop Circle, Catonsville

(

a quarter of an hour southwest of downtown Baltimore

). State University, which is part of the University System of Maryland specialized in engineering and science.

Almost 14,000 students, most of them undergraduates.
work
safety
health
Practical information
39.283974-76.6123072 Baltimore Visitor Center, 401 Light St. last change: Dec. 2015 (information may be out of date)
excursions
To Washington, D.C. in the capital of the U.S., about 65 km